I love API's. It allows automating processes and linking devices together a breeze. When a device doesn't have an API usually its game over. Recently I was able to build an API for a legacy device with NodeRED and it worked quite well.
The legacy device I had only communicated via Telnet and SSH. The SSH connection didn't provide you with a UNIX shell rather another Telnet connection. Sending commands remotely to the Telnet session was an option however there was a 5 second delay on startup. This wouldn't work as the API would be called multiple times a second via a HTTP listener.
This is where NodeRED shines, it describes itself as:
Node-RED is a programming tool for wiring together hardware devices, APIs and online services in new and interesting ways.
You can find out more at NodeREDs homepage.
I was able to create a flow that achieves the following:
On flow start - start a new session
Wait for a POST request
Configure the parameters and set the correct command
Send the command
Return an appropriate HTTP response
Restart the session at X interval (poor mans error recovery)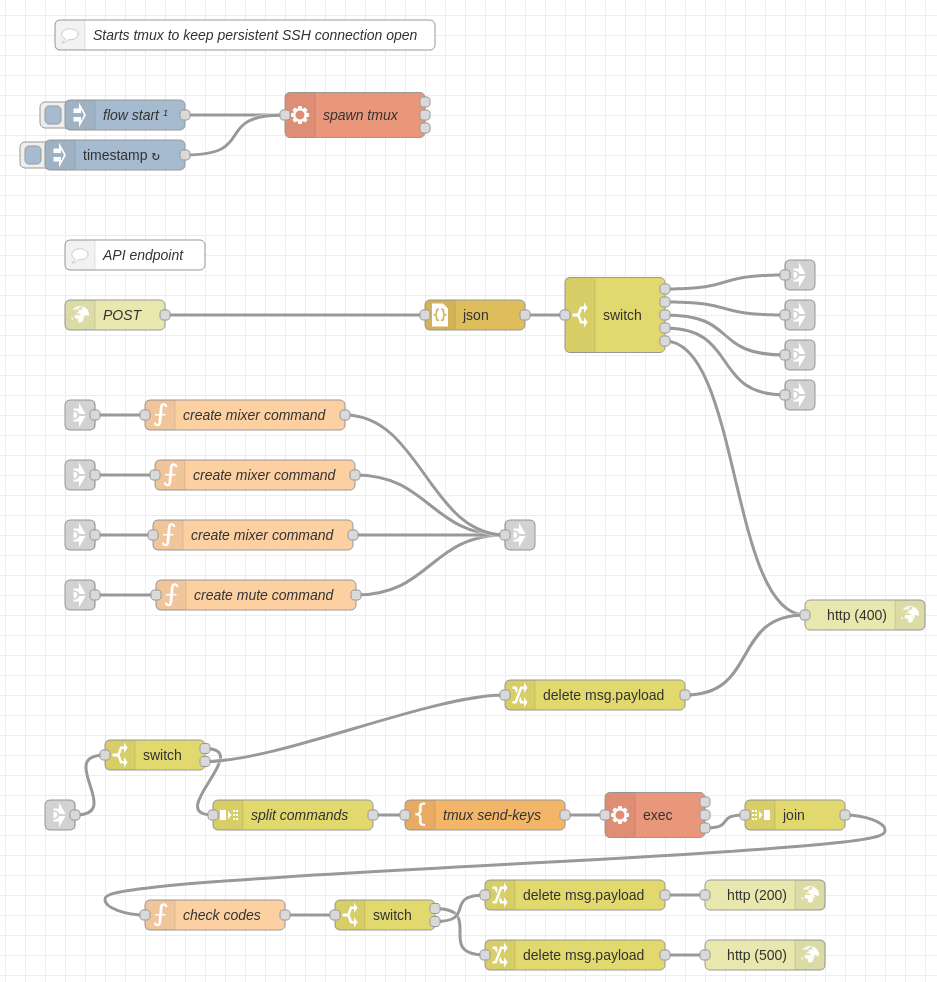 This works well, I used tmux for session management because:
I can view any errors thrown back from the device should something go wrong
It's an easier way to send commands to an already established SSH tunnel
tmux is an incredible tool:
tmux is a terminal multiplexer. It lets you switch easily between several programs in one terminal, detach them (they keep running in the background) and reattach them to a different terminal.
To start the tmux session:
Kills any previous sessions
Starts a new session with a specific session name so we can refer to it later
Passes the SSH password and connection information and establishes an SSH shell
You may be thinking its bad security practice to include the password in this command, you'd be right - why not SSH keys? Well the legacy device doesn't support them.
When sending commands to the session:
This utilises tmux's send-keys command which you can read more about in the man page.
I haven't designed an error correction system, therefore if tmux or SSH fails for any reason the HTTP response returns a 500 error. This could be solved by delaying the response and restarting the tmux session. For now I restart the session at regular intervals.
So next time you have a device that hasn't got an API reach for NodeRED and tmux. I'd love to hear if you used this technique - send me an email.